On the eve of 2012, it's time for me to start seriously planning for my Conservation Big Year in 2013. Some of the most important resources are, quite naturally, publications of critical bird conservation organizations that I wish everyone would support. All the illustrations and logos are clickable to get information about that actual resource.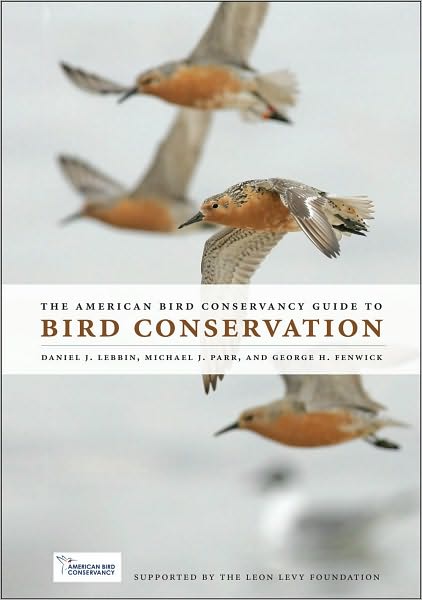 The single most important resource for getting started is the American Bird Conservancy Guide to Bird Conservation. This book has species accounts of all of ABC's Watch List birds. Each provides an overview of the species, its current conservation status, the threats it faces, and what actions are necessary to help restore it to population health. It also has overviews of the Important Bird Areas essential for protection of birds.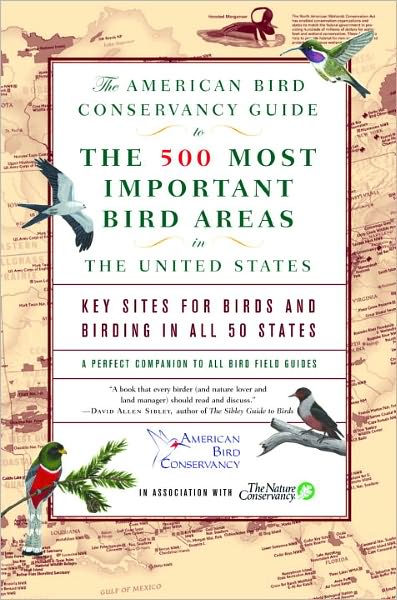 The American Bird Conservancy Guide to the 500 Most Important Bird Areas will be essential for plotting out the places I visit to see my Watch List birds. The American Bird Conservancy has a large number of well-researched reports about important bird conservation issues available for free on their website that I'll also be referring to. I've been a supporter of ABC since they first came into existence.
When The Birds of North America was originally being published by the American Ornithologists Union, the Philadelphia Academy of Natural Sciences, and the Cornell Lab of Ornithology, I started subscribing as soon as I could pull together the $800 for a discounted subscription. It was one of the best purchases I've ever made. I also started subscribing to the online version as soon as it became available, and have given a few subscriptions to people as gifts, because it is such a superb resource for people serious about learning more about birds. As wonderful as my hard copies are, BNA Online can be updated and includes more photos, and also includes videos and sound recordings. I'll be consulting this as I gather information about each species.

I've been a member and supporter of the Cornell Lab of Ornithology since the 1980s, long before I thought of applying for a job there. I think the achievement I've been proudest of in my entire life has been being asked to serve as science editor there. If my home and family in Minnesota hadn't beckoned, I'd still be happily working full-time at the Lab. This amazing world-class institution's mission is "to interpret and conserve the earth's biological diversity through research, education, and citizen science focused on birds." They live up to this, providing a huge number of resources to people to learn more about birds, many of them free, supported by those of us who support the Lab. I'll be using the Lab's All About Birds site for quick reference and their wonderful maps.
eBird, an amazing resource from the Cornell Lab of Ornithology and Audubon, has all kinds of interactive maps and apps that will make finding rare species on my list much, much easier. I intend to submit all my daily checklists from my Conservation Big Year to eBird, too.
A huge group of cooperating organizations and agencies, including the US Fish and Wildlife Service, the Cornell Lab of Ornithology, the American Bird Conservancy, Audubon, and The Nature Conservancy, have been putting together an annual State of the Birds report since 2009. These full reports are all available for free online.
The American Birding Association's unique niche is the sport of birding, but they have a great many resources that are going to help with the nitty gritty of seeing birds. ABA's amazing bird-finding guides give detailed directions to the best places for seeing birds and the best timing for finding each species. I'll be using these extensively. I'm been a proud member of ABA since the 80s, and though I let my membership lapse when I was just not earning enough money to afford it, happily joined again in 2010, long before they thought of profiling me in Birding or making me an ABA blogger.
I was also a big fan of Birder's World long before I spent a day birding in northern Minnesota with Chuck Hagner (a day when virtually no birds were to be found in the Sax-Zim Bog!!), and long before he asked me to write an article for the magazine, which has now evolved into BirdWatching. BirdWatching provides a lot of resources that I'll be using to plan out trips, especially their Hotspots Near You, which covers many areas that aren't included in ABA bird-finding guides. BirdWatching, both the magazine and their wonderful online resources, also help me keep up-to-date on important conservation issues.
BirdLife International joins at least 116 national conservation organizations the world over and takes a global approach to bird protection. Their BirdLife Data Zone is a goldmine of information.